I was able to ride 50 km yesterday (Sunday) to a small town on the banks of the St. Lawrence here in Quebec; L'Islet Sur Mer. It was a beautiful day and if it hadn't been for the wind against me, it would have been perfect.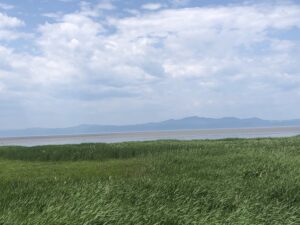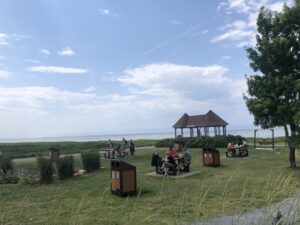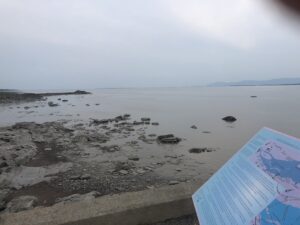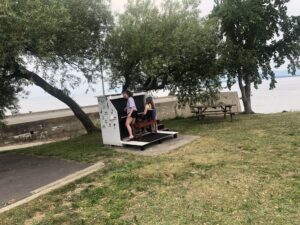 I arrived around 5:30 p.m. to an AirBnb I thought I had pre-booked a few weeks back.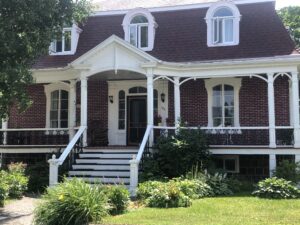 So I slowly unpacked my bike as a couple sat on the porch of the quaint BnB on the town's main street. The woman approached me and asked in French if she could help me. I told her (in my basic French) that I had booked two nights there. She spoke no English and said she had no booking for me. My error: I had booked two nights, yes…for a year from now! Sometimes Airbnb throws arbitrary dates at you and you have to double check they're accurate. I didn't. In any event the hostess agreed to provide me with a room for two nights. She checked with Airbnb and I called Airbnb too to confirm the change of dates. Then she and her husband drove off on their Harleys!
A few hours later the hostess was in a rage toward me. She told me (again, only in French, rapidly) that Airbnb had cancelled the reservation and refunded my money, and now I was staying there with no reservation or payment. I'd spend a half hour on the phone with Airbnb and though it was fixed. I explained this – my 1st year university conversational French, from long ago, should have been adequate – but she just got angrier when I asked how I could fix this. She yelled at me to re-book immediately or she'd kick me out!
I was trying to do just that, and she kept hissing "tabernack!" and gulping wine. Her husband, not a small man, wandered in to the kitchen and remained oddly mute. To defuse things, I called my daughter (who lives in Montreal and is functionally bilingual). She tried speaking to the hostess, who was still angry and said she couldn't understand my daughter's accent! So we put my daughter's fiance's brother on the phone, he a native Quebecer. He was super polite, but the woman was still beaucoup fache (mad), even though my payment had gone through.
You know, this whole imbroglio could have been avoided if she'd just been understanding, and had respected my request in French for her to speak slowly. She could see I was trying my best. Yet she chose to continue speaking too rapidly for me to properly grasp her meanings. Then she'd yell: Do you understand?!
By then it was 8:00 pm in a strange village, with only my bike and unpacked bags, and I decided to stay put. She threw up her hands and walked away. My daughter told me that the hostess was just being rude to all of us.
Ah well, c'est la vie. Other than this my experience in Quebec so far has been nothing but pleasant, with people taking time to listen and appreciating that I'm at least making an effort to communicate in their language.
Tomorrow I head out again, on my way toward Quebec City. It's about 90 km west and I'll do the trip in two days. Toute a l'heure pour maintenant.
DemocraCycle.ca