Madoc, Ontario Aug 6 2022
My ride the next day to Madoc was on the very thin shoulder of Highway 7 in cottage country. Didn't see a fellow cyclist the entire ride.! (They were clearly smarter than me.) Had my rear light flashing on full, hence most traffic coming from behind gave me plenty of leeway. A few cars whizzed by me at less than arm's length though. I did as I've done the whole nearly 2,000km of this trip: listen to a mixture of music and an Audible novel, tune out some of the rushing wind and motor vehicle sounds with my noise cancelling Bose earbuds, and hang on for dear life.
My host at the Airbnb in Madoc let me in via keycode a few hours before she came home. She has a really sweet, active dog, a Boxer mix. Five minutes after growling at me as I entered, that doggie was licking my face like I was ice cream. Aww. Must have been all the salt left over on my cheeks from sweating all day!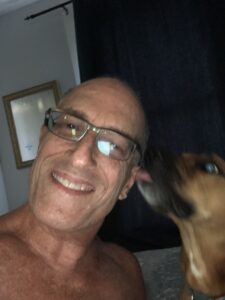 Later, the host and I sat and gabbed for a few hours. Nice to be meeting people from different backgrounds.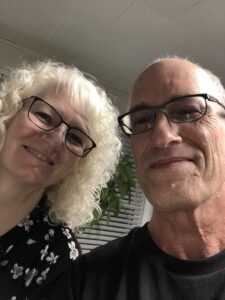 Tomorrow I'm set for a an overnight farm-stay in Norwood. Getting close to Peterborough, where I used to take my kids in our old pop-up camper. Fond memories!
Only four more days of riding to go!
Norwood, Ontario Aug 7 2022
The Madoc to Norwood jaunt was close to 60 km west and north. Nice day, not as much headwind. Most of the ride was on that thin shoulder of Highway 7.
Oddly there were few gas stations or food joints, despite considerable traffic. Stopped at a gas station, bought liquids galore, asked if they had sandwiches or muffins, was told no. Turns out the building had a chip truck out back, with burgers, fries, and other gloriously greasy digestibles. Stumbled on it by dumb luck. Anyway the final 10km or so was on mostly paved, quiet country road. Hilly in some parts. Passed a tractor or two. Oh so fragrant, that manure!
My Airbnb that eve was on a huge farm. It had wooly Alpacas, some boarded horses, a few piggies.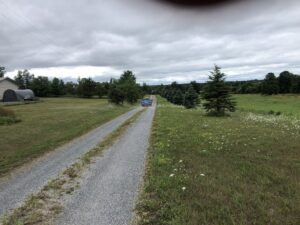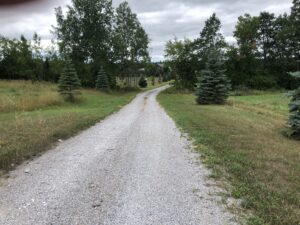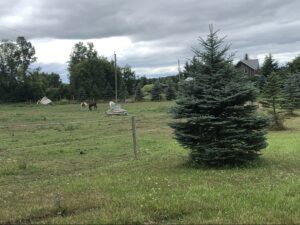 I stayed in a bunkhouse so far from the farmhouse that the owner kindly drove me and my bike there. What a spread. The bunkhouse was big for one person, with a bbq, gazebo, lots of yard (and a firepit), a compostable outhouse toilet, and trails out back.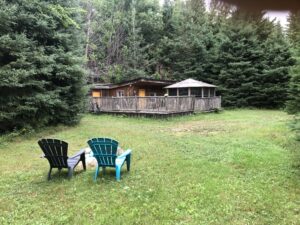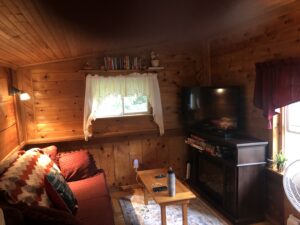 The host picked me up with his truck again in the morning, and drove me to where his achingly long driveway met the street. Great stay.