Perth, Ontario Aug 6 2022
I've been pretty fortunate overall with the folks who've been hosting me along the way. Have been using mostly Airbnb for the past few weeks (finding a motel or Airbnb within 5-10km of how far I've wanted ride each day has been hair-rippingly tough due to peak travel season, and has eaten big chunks of time before and during the trip).
My Perth host, Marcel, is a good example of how nice people have been.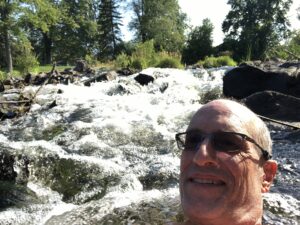 This was when a heat wave hit. I told him I'd booked a cab for the next morning, to shave about 30km of riding off an 85km ride. Dehydration was a real concern: I'd be biking the TransCanada Trail, where it sometimes strays pretty far from populated areas. When I woke up, he informed me that he'd found a local family that was traveling in my direction that morning, they had a van, and would drop me off at Sharbot Lake. Perfect! Saved me money and preserved my health.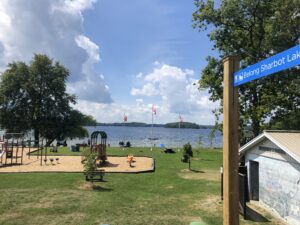 Kaladar, Ontario Aug 7 2022
My destination was in Kaladar. There I'd booked a kind of low scale "glamping" tent (glamorous camping), a few km in the woods. No wifi or electricity. I was bushed there in the bush. Loved the privacy. Practiced a bit of 'clothing optional' prancing about the remote campsite before the bugs got hungry.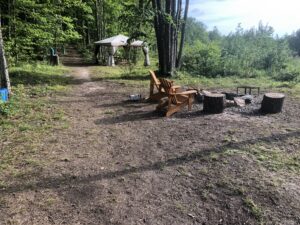 To get to Kaladar, I'd taken the TransCanada Trail from Sharbot Lake. Ugh! Mostly loosely packed dirt and stones, rocks and tire-swallowing ruts.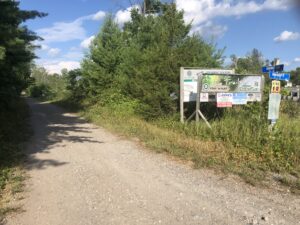 About 45km of tense riding. Had to keep alert the entire time, else risk being tossed and torn. Due to the heat, I began running out of water (I carry about 3.5 litres at the start each morning). So I stopped at a farm around 2:30 pm. asked for a tap, and was kindly shown to one. Doused myself with the refreshing liquid and thanked the man profusely. Began daydreaming of the mini-rapids in Perth.It rained fairly heavily that night. Ever heard the noise hard rain makes on a taut tent? Even with earplugs it sounded like I was sleeping under Niagara Falls!