This morning, after convalescing from Covid in Grand Falls, New Brunswick, I cabbed to Degelis, Quebec. Farewell New Brunsick! From there I felt well enough to ride my bike to that night's Airbnb in Témiscouata-sur-le-Lac, Quebec. It was another gorgeous day. I began on the cycling trail rout known as Route Verte. It took me though a small town or two. Then Google Maps nearly failed me. I rode for an hour or two on paved country roads, past massive farmlands.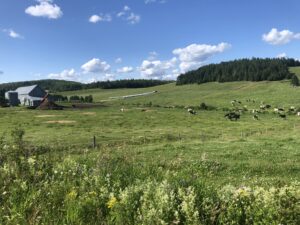 Then the route became unpaved, the sandy street strewn with stones.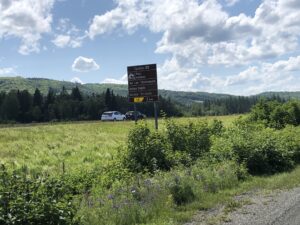 I'd ridden for an hour or so, starting to sweat and get very tired again (damn you Covid). Google told me my accommodation – a small, solitary bungalow I'd have for myself for two days – was just after a huge uphill then down it at full, breakneck speed. Had to hang on for dear life. Kept hitting small stonesand crevices, thinking I'd be tossed off into a raging case of road rash.
Arrived at the place Google told me to go. But it was the wrong address, on a remote piece of land, with no one home! I had to get proper directions. Of course the last place I'd seen any trucks in a driveway was, you guessed it, back aways, up that monster hill and down it, then a click or two more retracing my ride. I was in eastern Quebec now. No English. Found a man at his home and he directed in French back toward where I'd just come from, plus another few clicks.
I followed the directions, obliviously driving past the bungalow. Then I had to walk my bike and packs up an even larger dirt/stone hill. Came to a farm, and found a young guy about to drive off on a tractor. He told me to go back. On that rapid descent I kept the breaks on. By now I was depleted. Found the bungalow, opened it up, threw my packs on the floor, crawled into bed, and stayed there till late evening.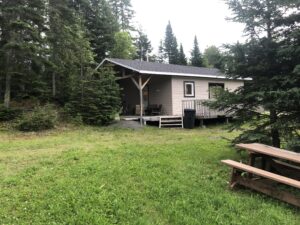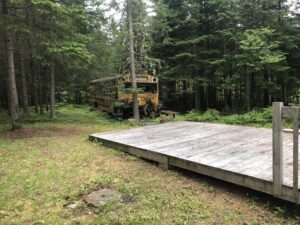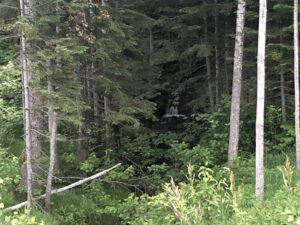 The next day I showered but spent the almost the entire rest of the hours in bed. So glad I had the place to myself! Only thing is I hadn't brought anything to eat with me except some cereal bars. Which is what I'd had for last night's dinner, and all meals till I left this remote (but comfy) place.