Yesterday was a quiet Sunday with barely any riding. Biked at around 9:00 a.m. from the nice BnB I stayed at, the Come from Away in Digby, NS, to the Fundy Rose ferry about four km north. Fog had swept over the tree-lined road and it was a cool, breezy jaunt to the massive boat. I gathered in the same boarding area as the motorcyclists. I used to ride a Suzuki 750 Katana so was able to swap stories. I marveled as tractor trailers chugged their way onboard the vessel's underbelly.
The ferry trip was two hours over a calm Bay of Fundy. Partway through a woman with a guitar started strumming and singing, part of the entertainment. On the top deck a docent was giving talks about whales and New Brunswick's geography.
The family I'm staying with in St. John, Gary and Buffy Lee, live just a few kilometers from the ferry docks.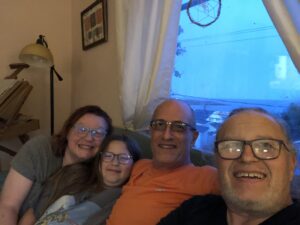 Still, I managed to get lost on the way. My incapacitated iphone is no help. Found myself pushing my bike up a massive hill I needn't have traversed.It was Gary's 59th birthday yesterday. He graciously gave me a tour of the city and surrounding areas in his car. We went to Rothsay and Renforth. Beautiful. Also saw the reversing falls.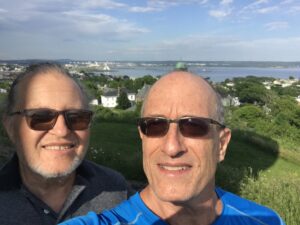 Home cooked dinner was chicken fajitas with all the trimmings. Yum. This residence has a full on view of the Bay. And is an animal menagerie: three dogs, four cats, all wandering about and using my feet as pillows. One of these critters bit a chunk from my cookie I'd left on my bed! That evening the nine year old daughter pretended to be a detective, and conducted an investigation into which varmint was the culprit. Very sweet.