Ride day 2 as I rode from Newport Corner in Nova Scotia to Kentville, on my solo charity cycle back to
#Toronto
. Was another 60 km or so.
Around 4:00 a.m. this morning it began to rain ferociously. The drops pounded against the glamping tent I was staying in. When morning arrived, the ground outside was drenched and it continued to pour. I got to test out my rainwear, at least. Took some getting used to, having a spray of water from the front wheel slamming into my glasses for hours on end. Let's just say I rode cautiously that day.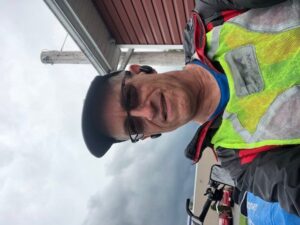 Today was both humbling and exhilarating. After another 60 km ride, I arrived in Kentville. My stay was in the home of a couple, in their sixties, who were avid cyclists. Here I was exhausted from several daunting uphills. That would soon seem trivial. Over dinner they shared stories and pictures from their recent ride: A six month bicycling expedition from the southern tip of South America upward. Wow. Talk about awe inspiring. Such nice people, too. They put me up, free, for two nights. Fed me wonderfully as well.