Day 1 of actual riding from #Halifax toward #Toronto for charity is done! Rode about 60 km on my 20 year old bike with heavy packs. Lots of rolling roads – great downhills, some very challenging uphills. Was a misty, cloudy day for the most part.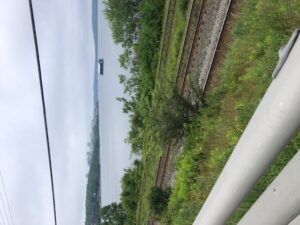 That night, in Newport Station, I stayed in a glamping (glamorous camping) tent. What a treat. I mean, it wasn't the Ritz Carlton. But it had electric lighting, charging outlets (for my phone, bike lights and laptop), plus a huge comfy bed. I'd picked up a frozen steak and fresh veggies along the route. How wonderful they tasted grilled over a fire pit on my private chunk of land.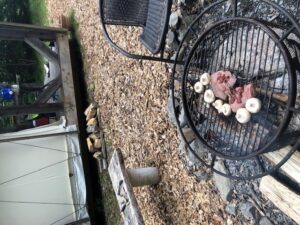 Around 4:00 a.m. it began to rain ferociously. The drops pounded against the tent.
Am interviewing people along the way about their views on Canadian democracy, as I am riding for the Canadian Anti-Hate Network, as well as The Mosaic Institute (dismantling prejudice).
All details are on my website, DemocraCycle.ca. Donations to the causes go directly to them via GoFundme. Please spread word of this worthy undertaking – Canada could use more #unity!