Berthier Sur Mer, Quebec on July 19
After my disappointing exerience in L'Islet Sur Mer, I was looking forward to another nice riding day on July 19. It turned out to be a great one. I biked to Berthier Sur Mer, Quebec on July 19. My Airbnb was called Chambres La Voie du Fleuve. Halte de tranquillité. It was on the second story of a smallish home, shared with the co-owner. There was another bicyclist there too, from Europe. The stay was quiet and pleasant.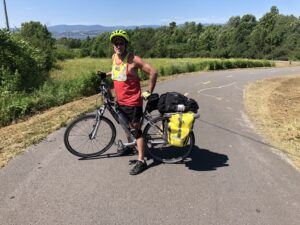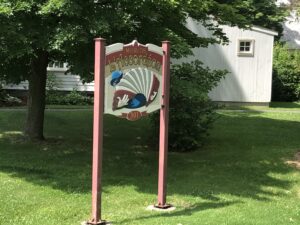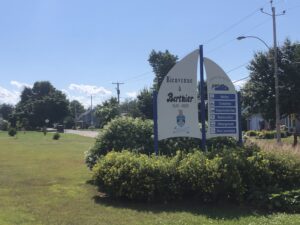 TAKING A BREATHER IN LEVIS, QUEBEC
uly 20 I cycled to Lévis,, a city in eastern Quebec, located on the south shore of the St. Lawrence River. It's directly opposite Quebec City.A ferry links Old Quebec with Old Lévis, and two bridges, the Quebec and the Pierre-Laporte, connect western Lévis with Quebec City. The population in July 2017 was 144,147.
One more thing about Levis: it is also where the mother of my daughter's fiance lives! My daughter, who's been living in Montreal for more than seven years, is marrying a wonderful guy named Jacques in late August. I had never met his mom before, yet she is kindly letting me stay with her in her home here for three nights.
She lives at the top of a hill about 1.2 km from the ferry mentioned above. It's quite a steep ascent but I was lucky; on my way into town, I rode on Route 132, which mostly cleaves to the shoreline of the St. Lawrence (I've stuck to the south shore thus far), and for a few kilometers before reaching her home I used the Route Verte bicycle path, which was downhill or flat for most of it. Ahh.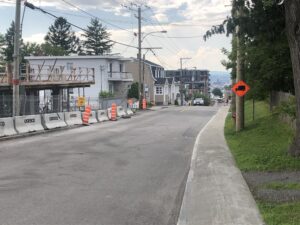 With regard to eating, what a pleasure to have home cooked meals again! Last night's dinner was duck and chicken slices, peanut sauce, rice and diced cheese. Yum. Easy to get spoiled by this. Tonight is air-fried fish and chips. Beats Tims and Subway by miles.
I'd planned on hitting the road again tomorrow morning. However I had a bit of a health setback today, once again feeling exhausted by the residual Covid. Spent the afternoon in bed, resting comfortably. Perfect day to do so: there were multiple thunder storms here, with oceans of rain and one clap of thunder so close and loud it shook the house. Thankfully my gracious host, Emilia, was ok with me staying here an extra night!
I could really use tomorrow to catch up on my social media, and start booking my next stays. From this point on the only accommodation I have lined up is in Montreal, at my daughter's. Given my somewhat reduced rate of progress that's nearly six days of riding away. It's a pain to have to book more stays today. But it's got to be done.
—
July 22
Really glad I spent that extra day in Levis, Quebec, at the home of my daughter's fiance's mom. Rested up. On my final night there, she took me by ferry across to Quebec City. What a treat. Hadn't been there since I was like, 12, on a class trip.
I love how the region around the Chateau Frontenac is lit up after dark. Various stores and restaurants are bathed in deep hues of red, blue, green…all highlighting buildings contructed hundred of years ago. The maze of streets in the tourist section was starting to be blocked off in preparation for the Pope's visit. A storm arose and soaked us as we scurried back to the ferry.